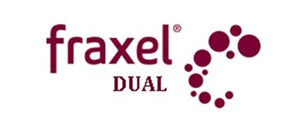 Fraxel® 1550/1927 skin resurfacing treatments effectively target both the surface and deeper layers of the skin for a smoother, fresher, younger looking appearance.
The Fraxel DUAL 1550/1927 laser treatment targets aging and sun-damaged skin with microscopic laser columns that penetrate deep into your skin to expedite your body's remodeling of collagen. And since the laser treats only a fraction of tissue at a time, it leaves the surrounding tissue intact, which promotes very rapid healing. Fraxel DUAL 1550/1927 treatment resurfaces your skin by stimulating the growth of new, healthy skin cells from the inside out.
Must purchase pre-treatment products 4-6 weeks prior to treatment. Call for a consultation.
(ONLY AVAILABLE AT OSAGE BEACH LOCATION)